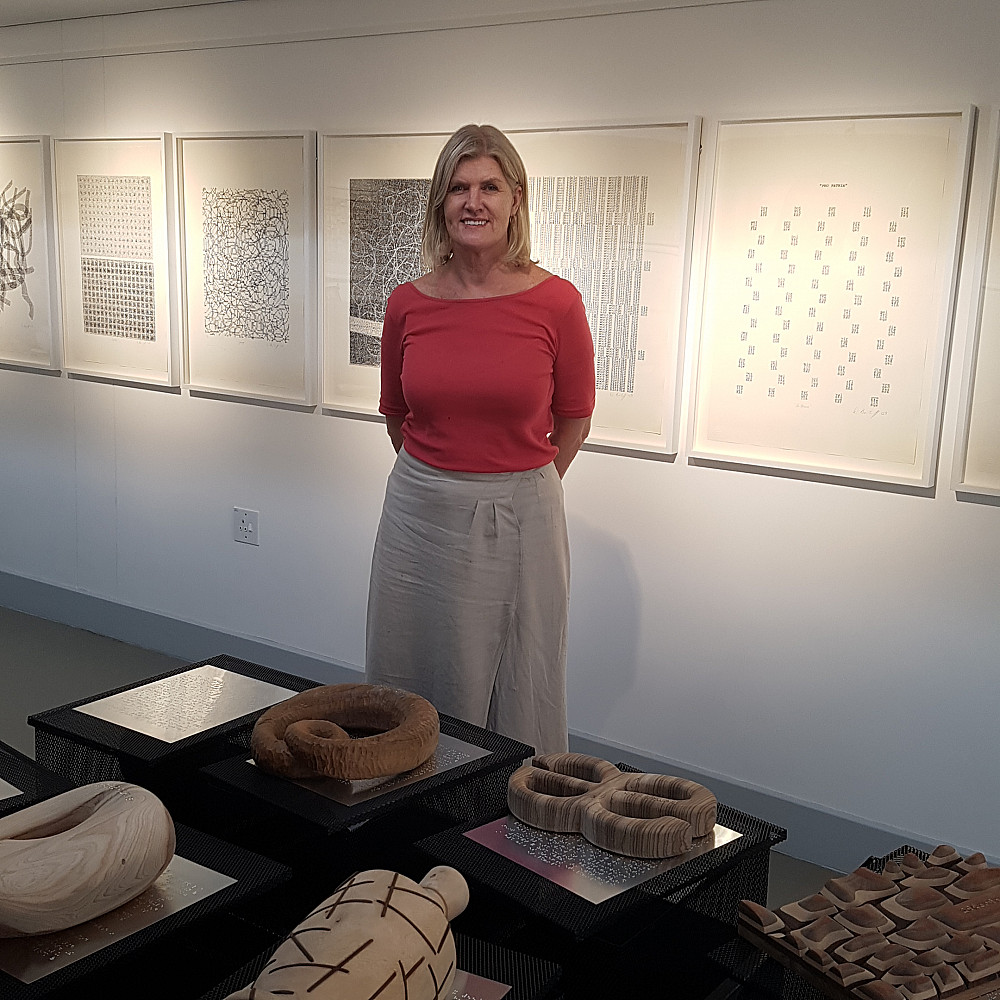 Hélène Smuts: Curating Experiences and Education
While the spotlight is often on artists and creators, curators play an essential role in helping gallery visitors explore and engage with art. For International Women's Day, we asked guest curator Hélène Smuts to tell us more about her role and practice. She is curating the upcoming exhibition Willem Boshoff: Word Woes, which opens on Saturday, the 13th of March 2021. The retrospective exhibition, surveys five decades of Willem Boshoff's work, as a major conceptual artist in South Africa and internationally.
Hélène was appointed by Boshoff as his personal curator so that he can concentrate on making art. She facilitates exhibitions, catalogues and commissions and sets up projects with galleries and museums locally and abroad. Curating covers a broad range of activities and careers."My own pathway in the world of art has had a very strong educational focus," she says. "I believe a curator is essentially a translator, who engages with an artist through their work and then makes their art accessible and relevant to a public audience. A particular curatorial focus lies at the heart of all this, knowing the artist and their work and then engaging on a thorough research process. Selecting works is an important aspect, especially in the case of an artist as prolific as Willem Boshoff.
I would have liked to put twice as much on display," she says. Talking to Hélène, it's clear that she has a passion for presenting knowledge, and so it is no surprise to learn that she was an art teacher before moving into curation and museum/gallery education. In 1999, she was asked to develop an education programme for Africa Meets Africa, a travelling Dutch exhibition from the Rotterdam Museum of Ethnology, curated by anthropologist Dr Erna Beumers. Her programme was interactive and interdisciplinary, bringing art, dance and storytelling to learners and teachers. It brought rare objects of cultural expression from West, Central and East Africa, taken during colonial times, to South Africa. Long after the exhibition was over, Hélène continued exploring indigenous Southern African knowledge systems as these are still expressed in the complex styles and patterns of traditions of art making: beadwork, weaving and homestead painting.
Her independent, non-profit, educational company Africa Meets Africa Projects has since 2000 been exploring, developing teaching materials and training teachers in a unique learning methodology grounded in the African cultural heritage, in line with the national CAPS curriculum. Hélène has worked with several galleries and museums in South Africa, engaged primarily in curatorial practice. This work has included other para-curatorial activities such as publishing as well as the coordination of educational programmes. Institutions she has collaborated with include The Origins Centre, the Apartheid Museum, Standard Bank Gallery and the Irma Stern Museum amongst others.
"I believe cultural museums and galleries can play a strong role in communicating about social and political change," she says. "In the 1990s, it was the museums who took the lead in communicating an alternative history from what we had been taught pre-1994. Curating is central to this process. "Curators need to ask leading questions. Not so much to arrive at a particular answer, but to stimulate in museum visitors, the desire to question and explore further. "A curator is a facilitator. We help to create experiences. No two curators are the same.
What advice does she have for people interested in curating? "If you focus on and expend energy on something you really care about, an opportunity will arise out of that."